I've been shooting kids all over Hackney for entertainment purposes. Stop. Wait. Let me explain. Please put the phone down. This is all technically true, BUT TO CLARIFY…. for a film…..a dance film with over 45 talented young dancers from Hackney featuring music from Rudimental, premiering at Hackney Empire. *wipes sweat from brow and slinks away.**
I was on Director of Photography duties, and collaborating once again with Adam (Director) and Annie (Choreographer) of the always excellent C-12 Dance Theatre; who I've worked with a number of times, like 2011's Dance on Film Suspect Number 4; we were commissioned by Hackney Council's Discover Young Hackney Festival with creating a film that celebrated Hackney's young people within the arts. We enlisted the help of Asst. Director & Choreographer, Rosie Whitney- Fish and Asst. Cinematographer, James Williams and Hackney's favourite sons, Rudimental, donated us the track "Alien Bashment" from their bestselling album "Home" to use in the film. It's a cerebral instrumental track that has an opening stanza warning about hopelessness amongst the youth in London and how it can spread, which the main theme of the film is to reverse. We repeated part of it at the end to give it a different meaning once the films events had played out.
Basing the story (ever so loosely) on West Side Story, we set about coming up with multi narratives that could incorporate over 45 young people under one lens. EVERYONE knows the best way to do this is with multi coloured post it notes, some sharpies and a big wall, so that's what we did. The main theme was taking the young people from a robotic, boring and restricted life, into a celebration of individuality. 2 main groups, a love story, one who dares challenge the system and a rebel group determined to unhinge the system (yes, it sounds a bit like Star Wars, this had nothing to do with Star Wars though). A call went out for performers in Hackney and the final ones were chosen from 11 schools & colleges in the area for 12 rehearsals to construct stories, shapes, movement and bonds. The rehearsals went really well, the talent of the kids was incredible individually and in their groups, many never having done any filming work before were eager to learn.
DANCING, DREAMING, DALSTON
Filming took place in several locations all over Hackney, including Gillett Square, Hackney Town Hall, Hackney Empire, Hackney Marshes and at Clapton Girls School. We had individual dancers who would act as the "rebel dancers" under the bridge in Hackney Marsh, their pieces would be dream sequences of how they would like to be, in different locations. Our shoot with John, was were we would eventually screen the film, the magnificent palatial arena that is "Hackney Empire". John had a solo dance on stage with a few different lighting states, we (literally) shot around him from different angles high and low, and fashioned a dolly out of the underside of a wheeled equipment box. I had on hand my trusty "Poor Man's Steady Cam" to fully keep up with John's movements (failed in parts and nearly got kicked in the head), I've learnt to try and stay one step ahead with dancers movements whilst shooting them, always trying to anticipate the next motion and capture something unexpected with place, emotion and movement. The kind of futuristic Gillett Square, in nearby Dalston posed some lighting challenges with our allotted filming time falling in the middle of magic hour (sundown), the changing colour of the buildings into various shades of blue and the rain. As it happened, a great alchemy of the rain on the ground, natural and artificial lighting conspired to bring out a dreamlike effect of primary colours to compliment Shaun's dance (and at one point the dance of one of the local drunks). It ranged from wides to extreme close ups to capture expression and excitement. Raihaanah and Mia were filmed around Hackney Marshes, in contrast to the strong lighting the boys had, the girls had warm natural light in the forest and in front of the massive stone wall near the football pitches. I'm really pleased with how these dream sequences turned out, some of my favourite sequences in the film, each expressed something different about the dancers individual movement and they cut together nicely.
BUSBY BERKLEY IN HACKNEY
Shooting around single dancers was all fine and good, but how about 45 of them? Is there a lens wide enough to fit them all in?! We shot the main group scenes in Clapton Girls School playground, having a square off between 2 sides, whilst our protagonist Nayol, watches on trying to change the system (again, not Star Wars. This'll all make sense once you watch it, you will watch it won't you?). We wanted a way to visually represent the uniformity of the dancers and to look impressive en masse so we dressed them all in bright blue hoodies to stand out against the green, maroon and grey of the playground. As the 2 sides had a dance off they eventually came together and formed a circle around Nayol, Annie looked at Busby Berkley choreography for inspiration, where a routine was shot from above and would be perfect for this sequence. How do you shoot an aerial shot of a big group of dancers in a playground without constructing a massive shooting rostrum to film down from? By suspending a GoPro camera with a buttload of string across the top of the fence, that's how! Despite not being able to fit the whole circle in completely even in wide mode, it worked a treat, really accentuating the choreography from above as they moved around in circles around each other creating a maze for Nayol to get out of.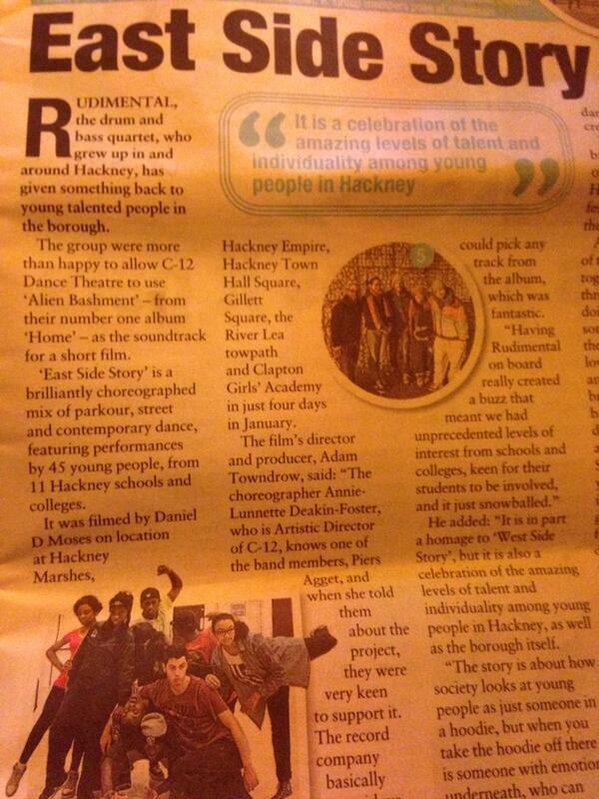 The next day our location was the grand surroundings of Hackney Town Hall, where we were given permission to shoot the set piece closing dance of the film. The town hall square is an epic, white/grey backdrop, a bit like the HIll Valley town square in Back To The Future, which helped to showcase our young people army in their blue hoodies. This was pretty logistically complex to co-ordinate, it's a living environment people coming in and out, and generally distracting things, it's easy for communication to get lost. All parts of the choreo looked impressive as all the small parts came together to bring 45 different voices into one 2 minute section.
I took home 2 cameras worth of some really excellent footage to chuck straight into Adobe Premiere, some scenes more complex then others to cut together, some more mechanical, some more with feeling. On the evening of Feb 7th, the film premiered at Hackney Empire as part of the Discover Young Hackney evening and was really well received by the audience (despite the initial technical playback glitches *grumble grumble) It's always great to have something screened in a grand venue, well done to the really talented kids who made it happen, and to my excellent collaborators old and new who offered different ways of working and an abundance of creativity. Some Behind The Scenes here of our shoot
SHOOT STATS
Wrap time: All on time! (I can in no way, take any credit for this)
Wrap photos: 8 (wrap photo record)
Half Time Food: Bring your own, I believe I grabbed something from Tesco (glamour)
Cast or Crew Injuries/Deaths: 0 (phew!)
People running in a DDM film: At least 45 at some point or another, massive workout
HONOURABLE MENTIONS & SHAMELESS PLUGS
C-12 Dance Theatre . Rosie Whitney-Fish . James Williams - Moving Productions .