Inspiration: Life Lessons from Bruce Springsteen
It's odd to connect to a slice of Americana so far removed from my own life, but there's something magic about Bruce Springsteen & the E-Street Band that keeps me coming back again and again. Bruce has taught me many a lesson and these are they.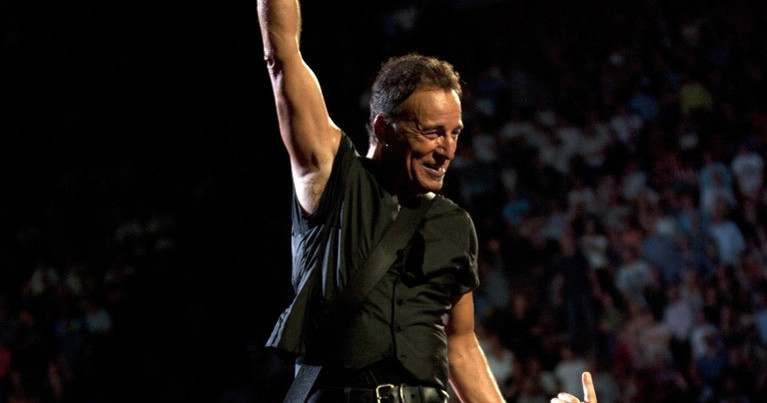 AUTHENTICITY
What brings to you Springsteen is the music, but you stay for everything I've written below! E-Street's wall of sound is grand and epic whilst somehow remaining grounded. Rock 'n Roll, Blues, Country, Folk, Soul, Jazz, Rocky Ground even had a bit of rap in it, it's all there at different times, each evolving through the ages, and managing to sound and feel gritty, raw, bombastic and authentically rootsy. Bruce and E-Street are not afraid to innovate or afraid to try different styles to make it their own.
PUT ON A SHOW
I've seen Bruce and E-Street in London 5 times now and will do again whenever they decide to come back to these shores. I know the rhythms of the songs, how they structure them live, Bruce's ad libs and even which roadie tunes and catches his guitar, but I'm still impressed with the spontaneity and excitement they include in every show. A Springsteen show is a joyous and life affirming rock 'n roll tour de force backed by an impressive back catalogue. Some shows begin with a stripped down version of Thunder Road just Bruce on vocals and Harmonica and Roy Bittan on the keys; only Bruce can open a massive show with a ballad, he has the whole audience in the palm of his hands. Some shows involve long monologues that you may or may not follow and some involve making as much noise as possible, either way you'll get lost in the atmosphere. They have the audience's complete attention because they know that they're in for an incredible show that sees a man of pensioner age throw himself around the stage for more then 3 hours (the record is 4) with more energy then your average teenager (but that's just a bonus).
CANT START A FIRE WITHOUT A SPARK
The chorus of Dancing in the Dark reverberates around my ears in times of undue lack of motivation. It's stupidly simple, when you're feeling sorry for yourself for whatever reason, pick yourself up off the floor if you want to get anything done. Be the spark, be the catalyst, nothing's going to change without you getting off your ass and making something happen.
STAY HARD, STAY HUNGRY, STAY ALIVE
In this SXSW speech from 2012, Springsteen asks you to "…be able to keep two completely contradictory ideas alive and well inside of your heart and head at all times…" A mantra to live by, reminding you that being a fully functioning human being requires a paradoxical thought process. Life isn't a set of either or, it's a push and pull of incongruous ideas, a textured fabric designed to keep you honest, grounded and on your toes.
STORYTELLING IS EVERYTHING
Bruce is a tremendous storyteller, whether the song itself or in the half hour monologue before he performs it. His recent show Springsteen on Broadway showcases his ability to regale us with the autobiographical elements of his work with insights into creative process and inspiration. Thunder Road, Racing in the Streets, My City of Ruins, Nebraska, all visceral, visual poetry taking you through tales of hardship and the yearnings for a better life. Through the years he has made himself culturally relevant, tapping into the soul of the American middle classes documenting their stories. Darkness on the Edge of Town, Born In The USA, The Rising in the wake of 9/11 and Wrecking Ball in the shadow of the financial crash captured a socio-cultural moment in time, channeling feelings of anger, disillusionment and hope, into solid tracks that resonated as much as they entertained.
The music also tells a story, with just as much pathos and phrasing as it's lyrical counterparts. That epic 2 minute setpiece Sax solo at the end of Jungleland is so emotive and tells its own story; and that long note at the end of Bobby Jean (the live version is so ridiculously impressive). RIP Clarence Clemmons. Bruce and E-Street's rich and diverse storytelling keeps them relevant.
BRANDING
Bruce Springsteen has a strong brand, he is unmistakably the soul of liberal America, the embodiment of Americana, and good old fashioned rock 'n roll. His output is staggering, putting out a new album every few years as a response to a situation, either his or the worlds. Bruce's journey has been documented by photographers and filmmakers like Thom Zimny, Eric Meola and my favourite music 'tog Danny Clinch. These visuals compliment his image raw, gritty, authentic, earthy and you know exactly where you are with it. His marketing is an emotional response to his core values, and he's always consistent.
THE TEAM MATTERS
The E-Street Band are one of the best bands around, I've lost count of how many members there are now, each playing their vital role creating that textured wall of sound grounding Bruce with a musical narrative to carry forward the song, punctuated with the soaring saxophone of Clarence Clemmons. I have seen a few incarnations of E-Street live, and now a few notable members sadly no longer with us (Clarence, Danny) but I very much liked the new additions to the band, a stonking horn section (every band should have a horn section, it's just plain classy) and some excellent backing singers. . I felt it had lost something with the band members who loomed so large no longer here, something that was treated respectfully and cathartically, but outweighing it was the energy and freshness that the new elements of the band brought to counter this, notably Clarence Clemmons nephew Jake, who took up the lead Sax for his uncle with energy, humour and star quality matching note for note the big man's solos. E-Street has new life, with old magic and it sounds glorious.
A HORSE SIZED DUCK WILL F**K YOU UP!
Sometimes problems seem insurmountable, but the only way to tackle them is in small amounts, otherwise you'll be overwhelmed. Let Bruce put it another way….